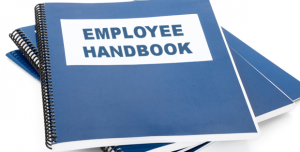 Ohio is an "at-will" employment state. This generally means that an employer can terminate an employee for any reason. However, many laws exist that create exceptions to the at-will employment rule. All it takes is one employee to initiate a lawsuit for wrongful termination or discrimination. The existence of a handbook gets even more important as your business grows. The more employees you have, the more likely you will need to discipline or terminate one of them. If an employee is disciplined or terminated, you need to be able to point to why their behavior was unacceptable. Without a handbook that clearly outlines what is not acceptable behavior, the employee can claim they did not know their actions could lead to discipline. A good handbook sets forth the expectations for every employee and prevents any "I didn't know" arguments.
Prevent Unintended Benefit Claims
Another potential conflict or lawsuit an employee handbook can prevent is the employee's claim that a certain deserved benefit was not received. A clear explanation of all employee benefits can prevent claims of the right to a benefit that was never intended to be covered by the employer. One example is accrued vacation time. A terminated employee may demand pay for accrued vacation time or other unused paid time off (PTO). The court will look to company policy to determine whether the employee's claim is valid. A clearly defined PTO policy outlined in the handbook may be viewed as clear evidence of that the benefit claim is or is not valid.
Potential Discrimination Lawsuits
Ohio Law and the Constitution protect certain people from being discriminated against by employers. In Ohio, it is illegal to discriminate based on the:
Race
Color
National Origin
Religion
Sex
Pregnancy/Childbirth
Disability (physical, mental, or learning)
Age if Over 40
Military Status
Citizenship Status
Genetic Information
Caring for a child, parent, sibling, or spouse injured while in the armed forces
An Ohio company with as few as four employees are subject to the state's antidiscrimination law. If an employee in a protected class is terminated, it is crucial for a business to be able to point to what unacceptable actions or behaviors led to the termination. The violation of a clearly stated policy listed in the employee handbook can prevent a discrimination lawsuit. If a lawsuit occurs, the handbook policy violation can be strong evidence that the employee's action, not their status, led to the termination. Please note that it is also very important to document the behavior with employee reviews or anytime the unacceptable behavior is addressed.
Draft the Handbook Carefully
While having an employee handbook is important, just as important is the language it contains. Any language that the court deems unclear or ambiguous will be strictly construed against the employer. Additionally, the handbook should contain important disclaimers. The business needs to retain the right to change benefits, policies, and other terms and conditions of employment. It is also important to make sure the handbook is not worded in a way that is interpreted by a court to create contractual rights to employment. Also be sure to have signed documentation that the employee received and read the handbook.
Hiring an attorney to make sure that the handbook is drafted correctly is a very good idea to make sure that all important issues are addressed!
Contact Brent (513-322-2061) for a Consultation
—
Kohlhepp Law Office
Kohlhepp Law strives to resolve client needs with a personal and comprehensive approach. We set ourselves apart by our commitment to responsiveness and communication. Kohlhepp Law specializes in real estate law, estate planning, business law, insurance claims, personal injury, and OVI/misdemeanor defence.
>> Learn More